Palm Coast and the Flagler Beaches COVID-19 Update
Updated: Wednesday, March 25th, 4:00 PM EST
Dear Flagler Visitors,
During this uncertain time, we know one thing – we value all of you; many of whom are our repeat visitors who have been coming to our beaches for years. Like communities all around the world, the people of Palm Coast and the Flagler Beaches are working together, making hard but necessary changes, and showing what truly makes this community special – the hearts of our people. We will persevere through this and are optimistic about the future.
We encourage you during this time to stay safe, stay home and when the time is right, we'll invite you back to #VisitFlagler.
Our hearts and thoughts are with those who have been affected by this. We send our deep appreciation to those in our community, the healthcare industry and first responders who are working on the front lines to mitigate the spread and impact of this virus.
Thank you to everyone who has continued to support our small coastal community. We look forward to seeing you soon!
Be well,
Amy, Debra, Candi and Annabelle
Palm Coast and the Flagler Beaches Tourism Staff
---
Officials in Palm Coast and the Flagler Beaches will continue to monitor the rapidly evolving situation surrounding COVID-19. Because the information is changing daily, we suggest that people stay up-to-date via these community resources:
Flagler County Emergency Management
Centers for Disease Control & Prevention
---
Key info for travelers regarding local changes in response to COVID-19:
Flagler Beaches are closed until further notice.
All parks and trails (including state parks) within Flagler County are closed until further notice.
Restaurants are unable to offer dine-in services, but are still permitted to offer take-out and delivery services.
To find out which local businesses are currently open, please visit http://flagleropen4.biz
Hotels are currently open.
---
Ways to Protect Yourself and Your Family From COVID-19
A. Know How It Spreads
There is currently no vaccine to prevent coronavirus disease 2019 (COVID-19).
The best way to prevent illness is to avoid being exposed to this virus.
The virus is thought to spread mainly from person-to-person.

Between people who are in close contact with one another (within about 6 feet).
Through respiratory droplets produced when an infected person coughs or sneezes.

These droplets can land in the mouths or noses of people who are nearby or possibly be inhaled into the lungs.
Take Steps To Protect Yourself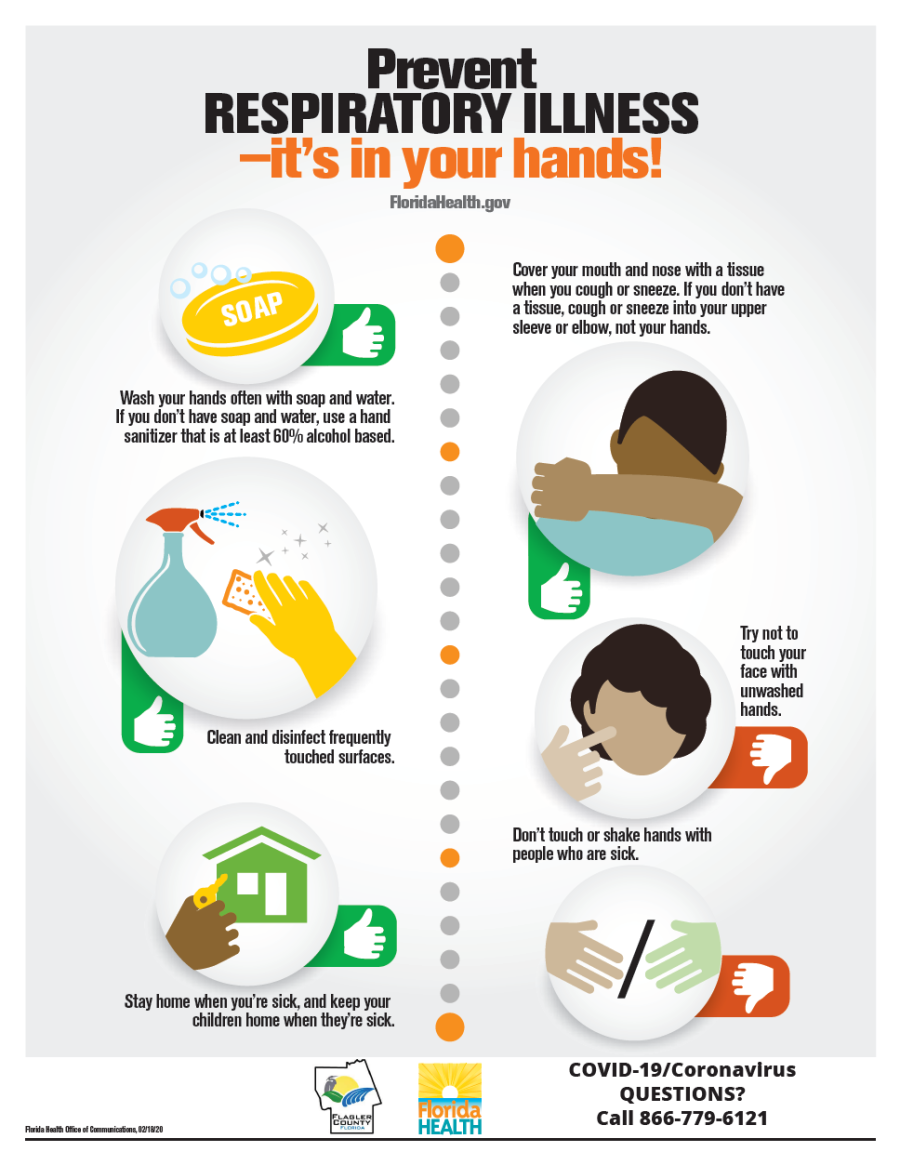 For more information about COVID-19, visit the Centers for Disease Control and Prevention and the Florida Department of Health.