Lucky and Shelly are our Dodge the Dunes mascots. These two colorful characters serve as a reminder that humans are not the only ones affected by polluted beaches and damaged sea dunes. By using these cute creatures in Dodge the Dunes messaging throughout the county, we hope that children will also want to be involved in education efforts and will become future advocates. 
 

To make it easy, our dunes are essentially what is on the east side (beach side) of Scenic A1A. These dunes are more than just massive piles of wind-blown sand. Natural dunes play a much larger part in our lives than the average beach-goer might expect, which is why we have to do everything we can to protect them. Our coastal lifestyle depends on the natural dunes for a variety of reasons. They provide the first line of defense against ocean storms for our homes, restaurants and hotels as well as inland and coastal ecosystems. 
Our fragile dune beach grass anchors sand in place and is damaged by foot and vehicle traffic, causing erosion. Without vegetation, dunes would be lost to the effects of wave, rain and wind erosion.
Need To Know:
Do not remove or cut any plants east of A1A. Florida State Statute 161.242.
Park your car off the dune grass and use the stairs.
Helping protect our dunes is easier than you think!

1.  Make sure you "Dodge the Dunes" by avoiding any walking, parking or driving on any grass or plants on the east side of A1A (Florida State Statute 161.053, Flagler Beach City Ordinance 5.02.04). Use approved free parking areas, which can be found here.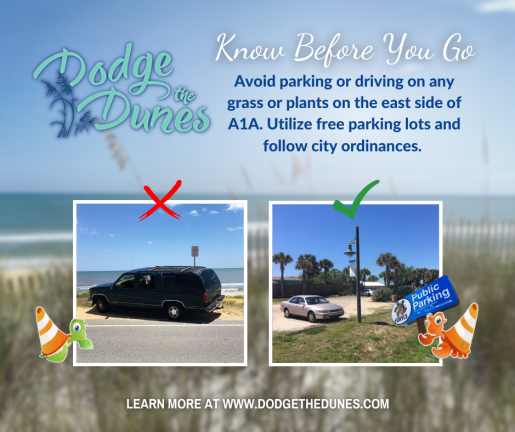 2.  Only access the beach using the approved walkovers (stairs) and access points. Do not walk, slide, jump or throw items down the dunes.
3.  Don't forget to take any trash with you to keep our beaches pristine. Be sure to dispose of cigarette butts in the proper receptacles.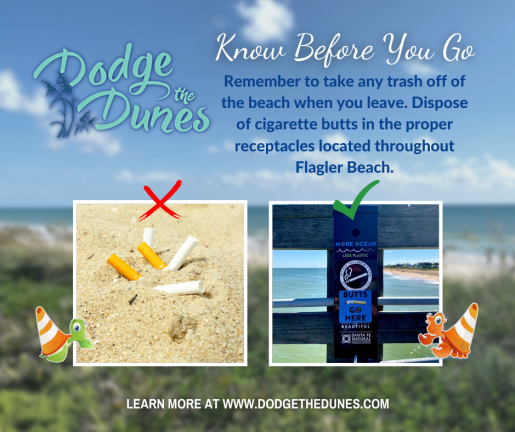 4.  Never disturb or harass sea turtles or the nests they leave behind.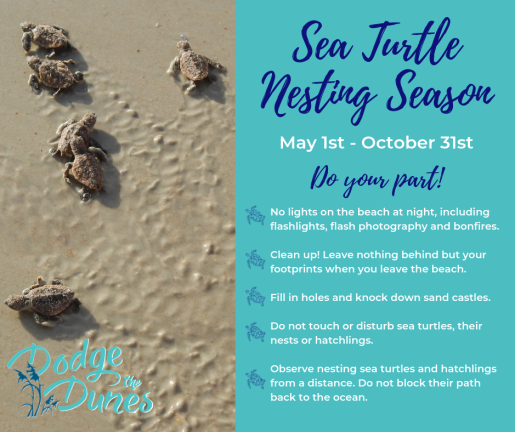 If you like the idea of getting the whole family involved in conservation and education efforts, take a look at these turtley awesome turtle-themed activities throughout Palm Coast and the Flagler Beaches.