Every parent knows that when the school year ends or a long weekend arrives, a trip to the local park and backyard playtime with your kids will only suffice for so long. The quickest way to get on their good side is with a promise of a Florida vacation.
Here's the reality, though: Not all family destinations in Florida are created equal. Tucked away in the northeastern part of Florida, Palm Coast and the Flagler Beaches area has 19 miles of pristine, cinnamon-colored beaches. Sand and sun are a must for a family trip to Florida, but it gets even better from there. Here are five reasons why Flagler Beach is hands-down the best family vacation destination in Florida.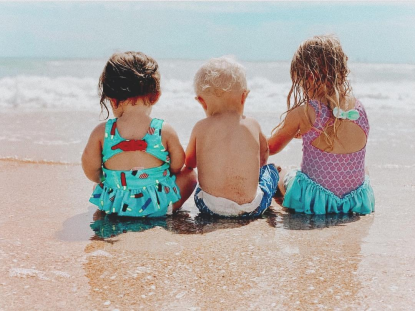 1. The Beaches
When you're traveling with kids, a few key beach features make all the difference. First, crowded beaches are not always great for kids. They need to have space to play, and you need to have an easy path of vision to see them when they're in the water. Flagler's beaches are uncrowded, and without high rises on the beach, your family will truly feel that Old Florida laid-back feeling.
Flagler Beach is also one of the very few places left in the state where bringing along Fido is encouraged. As long as dog-owners follow the guidelines and keep dogs in pet-restricted areas, they're welcome here, too.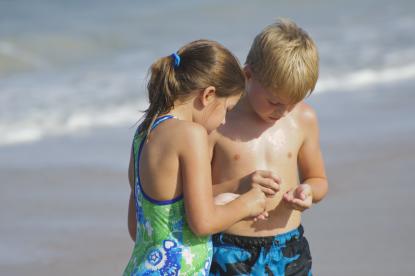 2. The Cost
Palm Coast and the Flagler Beaches is a cost-effective family vacation destination. Flagler Beach is one of the few places left in the state where beachgoers can pull up and park without paying a meter. Accommodations, food prices and local events are reasonable, too, even during busy season.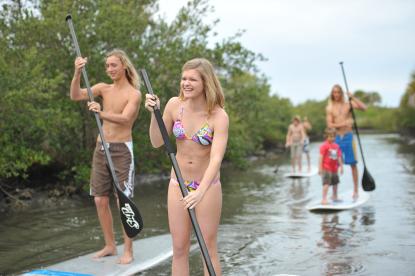 3. The Water Sports
You won't have to go far for a nice selection of water equipment rentals for all ages. The younger ones will be eager to try boogie boarding or body surfing while the older kids, or even mom and dad, may want to give surfing a try. Lessons and rentals are available at Z Wave Surf Shop or Flagler Board Shack.  
Beyond the beach, there are lots of easy and fun ways to explore the area by water—perfect for kids. Kayaking, for example, is an easy choice and has a low learning curve. The area has plenty of estuaries and salt marsh creeks where manatees can be found grazing in the winter—so those kayaking trips instantly become very memorable ones. Parents can also guide the vessel during a kayaking or paddleboard expedition, and kids can go along for the ride.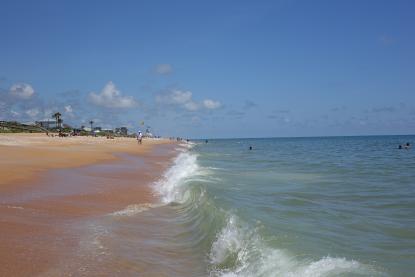 4. The Temperature
With so many water activities to choose from, the year-round weather in Palm Coast and the Flagler Beaches isn't too hot and isn't too cold. It sits at an average between 61 and 83 degrees (which is why so many beach weddings are planned here). Plus, the majority of the year, the water temperatures never reach an uncomfortable temperature, either.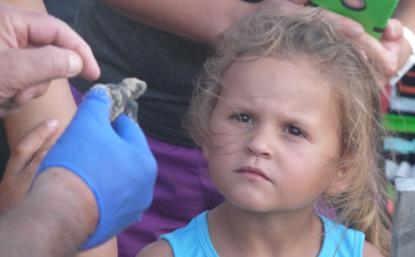 5. The Educational Opportunities
Imagine witnessing a natural miracle as baby sea turtles hatch and scramble for the ocean from their nests. You might be able to see that as well as experience other fantastic natural and educational events in Flagler. In addition to sea turtle nesting, Flagler is a destination where you can see right whale migration, or take a tour and learn about the groundbreaking research and rehabilitation of turtles at the Whitney Lab Sea Turtle Hospital. See dolphins up close at Marineland Dolphin Adventure.
For families looking to explore a little more with natural and native vegetation, Palm Coast has an extensive trail system that winds through the numerous parks and preserves with wooden boardwalks, paved greenways, and natural paths that meander through historic oaks offering the best of Flagler County in all its natural glory. So remember to load up everyone's bikes or stop by the Flagler Bike Run Fun Shop offering hourly and daily rentals.
Educational opportunities are available at every turn in Palm Coast and the Flagler Beaches, but time spent with family and the chance to learn more about each other is the best benefit of all during a Flagler family vacation.
Learn more about Palm Coast and the Flagler Beaches, and start planning your next family getaway here.