It's stone crab season, which is one of the tastiest times to visit Palm Coast and the Flagler Beaches. With a light, sweet taste and delicate texture similar to lobster, stone crab claws are a Florida specialty you'll crave from the first bite. Flagler restaurants offer some of the freshest stone crabs around, so start planning your stone crab adventure to Palm Coast and the Flagler Beaches today!
Here are some fun facts about stone crabs:
Stone crab season runs annually from Oct.15-May 15.
Stone crabs are considered renewable seafood since the claws are harvested without killing the crab. Only one claw is taken, and then the crab is put back into the water and will grow a new claw.
Claws must be at least 2 ¾ inches to be harvested. A regenerated claw will grow to this size in about three years.
Female stone crabs spawn during the summer and can produce up to 1 million eggs in a season.
The price of stone crabs can fluctuate with availability, but expect to pay more per pound than other shellfish like shrimp and oysters.
Stone crab claws are typically served chilled with mustard dipping sauce or drawn butter. The meat and shells are also excellent in cooked dishes. Check out a recipe for stone crab bisque below.
Claws are typically sold by size and are categorized as medium, large, jumbo and colossal.
No work, just deliciousness. Because of stone crab's thick, hard shells, the restaurant will crack the claws for you.
Is your mouth watering yet? Here's where to have stone crabs during your visit to Palm Coast and the Flagler Beaches.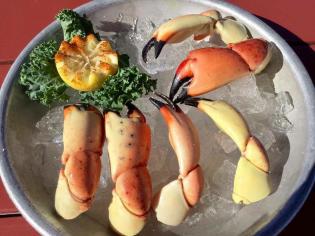 Golden Lion Café: For more than 25 years, this laid-back bar and restaurant, right across from the beach, has been serving seafood, sandwiches, burgers and beyond. Enjoy your stone crabs on the rooftop deck for unobstructed ocean views. The cafe has its own key lime tartar sauce and datil pepper cocktail sauce that are perfect for dipping. Continue your shellfish feast with a seafood tower, served raw or steamed with mussels, shrimp, oysters, clams and lobster, and its famous fish 'n' chips are always a crowd pleaser.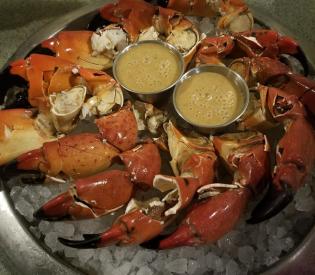 Flagler Fish Company: It's part restaurant and part fish market, so you can have stone crab claws with your meal and then take some home with you! Flagler Fish Company offers fine dining in a casual setting and earns top reviews for its seafood and locally sourced ingredients. After you select the stone crab claws as your fish from the day's catch, you can have it prepared just how you'd like— seared, blackened, grilled, sautéed or steamed— with a choice of sauce and sides.
Click here for more seafood restaurants to dine at during your stay.
You'll be craving stone crabs long after your visit, so why not bring the flavors of Palm Coast and the Flagler Beaches into your own kitchen? Stone crab shells can be made into a soup stock, which you can use in a variety of recipes. Here is a recipe for Stone Crab Bisque, courtesy of Danielle Rose from the blog Suwannee Rose.
Stone Crab Bisque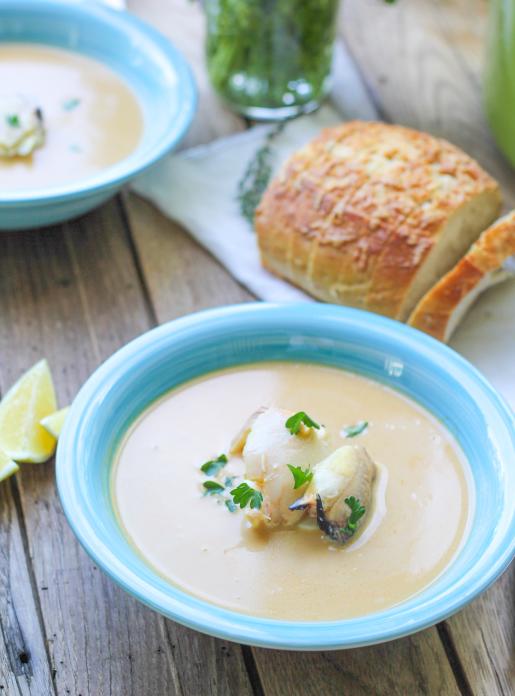 Ingredients:
1 gallon of stone crab claw shells
2 tablespoons of olive oil
1 large vidalia onion, roughly chopped
4 stalks of celery, roughly chopped
2 fronds from a bulb of fennel, roughly chopped (use a couple carrots if you don't like fennel)
1 cup of parsley stems
6 sprigs of thyme
5 cloves of garlic, peeled and sliced in half
A few bay leaves
1 teaspoon of peppercorns
1 cup of sherry
10 cups of stone crab cooking liquid (reserved liquid from boiling fresh stone crabs), seafood stock or bottled clam juice
1 teaspoon of saffron
Pinch of cayenne pepper
2 tablespoons of tomato paste
1 cup of heavy cream
2 1/2 tablespoons of cornstarch
Sea salt, to taste
1-2 cups of stone crab claw meat
Fresh herbs
Instructions:
Heat the oil in a large stockpot over medium. Add the claws, onion, celery, and fennel and sauté for a few minutes until the veggies begin to soften. Add the parsley, thyme, garlic, bay leaves, and peppercorns and continue cooking while stirring for a few more minutes. Raise the heat a notch and add the sherry, stirring until most of it evaporates.
Add 10 cups of liquid. Bring it to a boil and then reduce to a simmer. Stir in the saffron, cayenne and tomato paste. Simmer for 45 minutes, stirring occasionally.
Strain the broth into a Dutch oven and simmer over low to medium-low until it reduces to about 6 cups. Add the heavy cream. Combine the cornstarch and 2 tablespoons of water in a small bowl and mix until smooth. Stir it into the bisque. Raise the heat and allow it to boil for one minute, and then turn the heat down to low until ready to serve. Add salt to taste. Serve with a bit of claw meat on top, along with a sprinkle of fresh herbs.