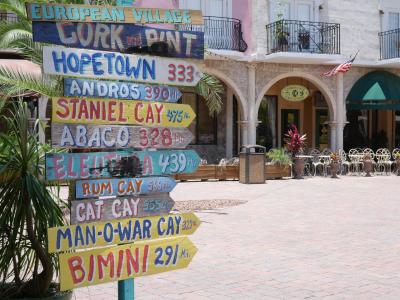 European Village in Palm Coast is your one-stop shop for some of the region's best dining, shopping and events. Home to more than a dozen restaurants, bars and shops, there's always something new to see—and taste—at this exciting eating and entertainment district.
While the architecture and pedestrian zones are inspired by the markets and piazzas of Europe, the city's roots are firmly planted in the community. At European Village, you can shop for local produce, meet some of the up-and-coming chefs and brewers, and discover local artists and performers before they go mainstream.
Ready to explore? Here's how to shop, eat and party like a local at the European Village in Palm Coast.
Shop
If you want to bring a piece of the beach home with you, head to the European Village's Coastal Mermaid. This whimsical shop sells island-inspired clothing, accessories and home decor made by local artists. Its signature mermaid wall hangings and shell-framed mirrors make for a perfect gift or souvenir. The store also sells greeting cards, books and beach gear like sunglasses and hats.
For even more beach attire, check out the popular Coconut Island and Turtle Reef shops. Coconut Island is where locals shop for stylish clothing from brands like Brighton, Joseph Ribkoff and MoJo, as well as colorful Vera Bradley bags that are just the right size for toting towels and sunscreen. The store also has a large collection of housewares including work by local designers. (Pretty much everyone in town owns at least one of the stores hand-painted martini shakers and cocktail glass sets.) Turtle Reef is a bit more casual, with its racks of colorful, flowing swimsuit cover-ups, rhinestone-studded flats and sandals and beach bags hand-painted by local artists. Of course, Turtle Reef has plenty of turtle print T-shirts, bags and jewelry for sale.
To see the work of local crafters, and maybe even meet a few in person, finish up your shopping excursion among the sparkling shelves of the Village Jewelry store. This shop specializes in vintage- and antique-inspired designs crafted by Palm Coast's newest and most established artists. Come for the gemstone rings and dainty geode earrings and stay for the chunky mixed metal bracelets and handmade pendant necklaces.
If you truly want to shop like a local, shop with the locals. Every Sunday afternoon, European Village hosts its weekly Palm Coast Farmers Market. This is where residents purchase local produce and grass-fed beef as well as specialty items like olives, truffles and small-batch vinegars. In addition to all the delicious food you can purchase, you'll also meet artists selling their handmade jewelry, soaps and home decorations.
Eat
After all that shopping, you're bound to be hungry. Fortunately, there are multiple restaurants and cafes in European Village where you can load up on everything, from prime rib to saag paneer. The cuisine is global, but most of the village chefs cook with fresh, local ingredients and seasonal vegetables.
Mezzaluna Pizzeria is one of the locals' favorite spots for traditional pies as well as specialty flavors like buffalo chicken and Greek salad pizzas. The restaurant also serves pasta, seafood and calzones. For more delicious Italian food, head to La Piazza Café. With its marble columns and grape trellises, this family-run establishment is the perfect place for a date night dinner that includes steak, seafood or pasta. The extensive wine list only adds to the charm.
At the nearby Lisbon at Night Restaurant & Cafe, Portuguese and Mediterranean dishes are the star of the menu. Enjoy traditional dishes like bacalhau (dried and salted cod) and robalo grelhado (grilled sea bass). For dessert, head to 5th Element Authentic Indian Cuisine for a bowl of rasmalai, a North Indian dish made with cheese, flour, pistachio syrup and milk. Think of it as India's version of cheesecake.
Nightlife
The fun doesn't end when the sun sets. European Village's bars and pubs each have a unique vibe, catering to everyone, from beer buffs to wine lovers to cigar aficionados. Most spots host regular open mic nights, local and regional bands and comedy shows.
If wine is your drink of choice, don't miss the extensive list at Cork & Pint. Many of its 80 wines are available by the glass, making it easy to sample vintage ones from around the world. Cork & Pint also has an extensive beer list, with 19 taps and more than 200 beers available by the bottle. 
For a quieter, more intimate setting, visit Humidor Cigar Bar and Lounge. In addition to beer and wine, you can also take your pick from an extensive list of cigar brands, including Padron, Montecristo and Camacho, among many others. The Humidor is also the only bar where you can find local brand Flagler Cigar Company's hand-rolled cigars. Finish the night with a dirty martini at New Europa, a lounge in the village. With its laid-back atmosphere and old-world charm, the lounge is a local favorite for dancing and listening to live music while enjoying amazing cocktails.