Quiet beaches, spectacular sunrises, cinnamon sands—you'll fall in love with everything Palm Coast and the Flagler Beaches has to offer. The best part, though, is sharing it with someone special. From snuggling up at an intimate inn to sipping fruity cocktails al fresco, Palm Coast and the Flagler Beaches is paradise for lovers. Start planning a dreamy romantic weekend getaway in Florida, today.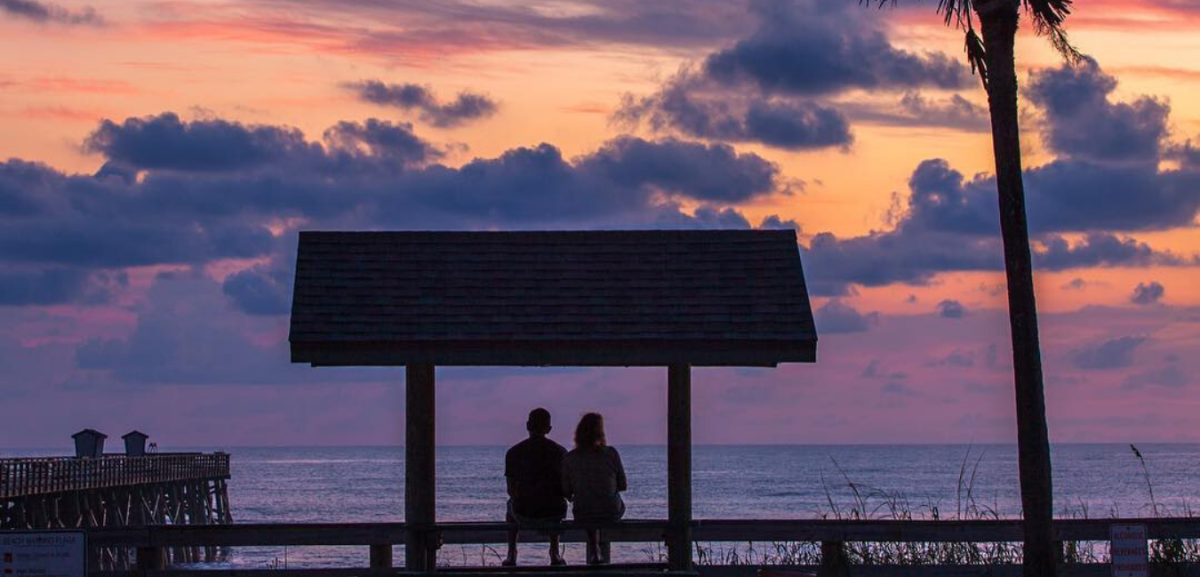 Proprietor Mica Campbell recently renovated this quaint retreat located at the south end of Flagler Beach. Steps from the cool blue waters of the Atlantic, Island Cottage Inn consists of eight luxe suites, each one inspired by the French Mediterranean. Mica's impeccable taste—think luxury linens, coastal neutrals with pops of color, and natural fiber elements—are woven throughout each one. Many of the rooms feature cozy fireplaces, perfect for canoodling after time spent lounging by the sparkling pool. Guests can begin each day with a gourmet continental breakfast, enjoyed in the café or poolside. The euro-inspired menu includes bites like freshly baked banana bread, Greek yogurt with fresh fruit, seven-minute eggs, coffee, and mimosas. With its intimate setting, the inn is reserved for guests 16 and older, making it the perfect romantic vacation spot for couples.

While you might be happily content to while away your romantic Florida getaway on the sand, Palm Coast and the Flagler Beaches is replete with outings and adventures that create lasting memories.
Enjoy a sweet moment in the salty air as you saunter down the coastline together on horseback. Book a private beach ride with Equestrian Adventures of Florida for a romantic moment in the sun.
Warbling birds, dolphins splashing, and whispering coastal breezes—let nature be your soundtrack as you paddle with your partner through Florida's beautiful waterways on a sunset kayak tour with Ripple Effect EcoTours.   
Stroll hand-in-hand through the fragrant rose gardens and around a majestic oak tree at this enchanting state park.

Breakfast:
While you can begin each day with the lovely complimentary breakfast spread offered at Island Cottage Inn, we do recommend that you occasionally venture out for brunch to one of our locally owned eateries, like Java Joint. The oceanfront restaurant has a well-rounded breakfast menu with plenty of savory and sweet items. Sip on a fruity mimosa or iced coffee while you devour crab cake benedict.
Lunch:
Enjoy elevated lunch fare at this Flagler Beach locale. Chef Ben Kirk whips up leafy kale salads, shrimp po boys, and "grown up" grilled cheese sandwiches with fresh ingredients. For a sweet finish to your meal, order the homemade chocolate chip cookie—truly divine.
Afternoon Drinks and Snacks:
Wine is a staple for a romantic weekend getaway. And a romantic getaway in Florida, where sunshine and balmy temps reign supreme, calls for wine slushies. Cool off with one of these delicious frozen drinks on the oceanfront patio at Flagler Beachfront Winery.
Romance, meet retro. Split a sundae with your someone special at The Waffle Cone. A charming spot for an afternoon treat or post-meal dessert.
Dinner:
Book a table for two at The Island Grille and savor the incredible flavors of dishes like the wasabi salmon, braised short ribs, and the Thai curry bowl. For the ultimate romantic meal, we suggest sitting on the porch, ideal for viewing the cotton candy skies as the day melts into evening.