Meet Garry Lubi, co-founder and president of the Palm Coast Songwriters Festival. We chatted with Lubi on what inspired him to start the festival, what makes it unique, this year's event, and more. The 2023 Palm Coast Songwriters Festival is May 4-7 at the Daytona State Palm Coast Amphitheater. Tickets can be purchased online via the festival website.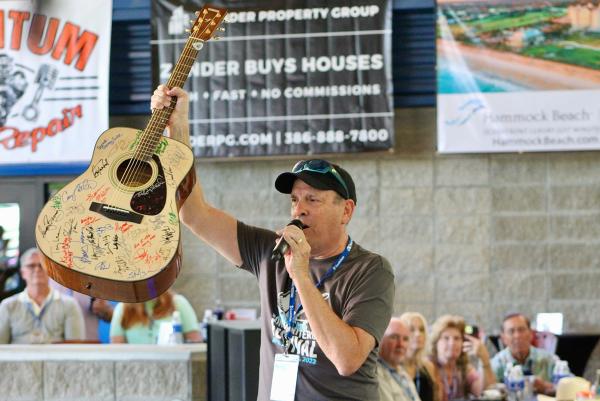 First, what is a songwriters festival and how does it differ from just seeing the musician themselves performing the songs?
I think David Ayres, President of Flagler Broadcasting, describes it best.  It's a unique intimate musical experience that makes you feel like the performer is in your family room telling you the story behind the song and letting you pull the curtain behind Oz, and then they perform it ... and in some cases better than the artist that made the song famous.  
Tell us what inspired you to start the festival? 
Having lived in the Nashville area between 1996 and 2002, I had the opportunity to learn more about the art of songwriting. Plus, I experienced "Tin Pan South" which is one of the largest songwriters festivals in Nashville … and after I came back and started floating that idea with some others about doing something on a smaller scale in Palm Coast. In the fall of 2017, David Ayres and John Walsh attended a songwriter event at Canopy Walk with Thom Shepherd and Coley McCabe Shepherd performing and the light bulb went on.
What year did you start the festival and how has it grown since then? 
We started it 2018 with 9 HIT Songwriters and went to 14 Songwriters in 2019. 2020, after COVID shut things down, thanks to the help of Thom Shepherd [songwriter and artist], we created a YouTube Channel and had 19 writers send us videos telling the story behind the song and then performing a couple songs. That YouTube Channel had people watching from all over the United States and even a few people from Canada. By 2021 we had 31 songwriters and this year that number will grow to around 40 HIT songwriters…
What sets the Palm Coast festival apart from other festivals?
What we started hearing from some of our ticket buyers in 2021 and since then is that unlike larger festivals like Key West, we do not have competing shows so you can hear all or at least most of our songwriters over the course of 4 days.  Also, we are predominantly HIT songwriters so every "round" of writers has charted songs that you recognize.                                              
Why did you choose Palm Coast as the destination? 
There was never a question in my mind where I would want to do this festival other than Palm Coast and Flagler County. This is home for my wife and I for the past 16 years, and I always felt like this would be a unique experience to see this level of talent without having to drive 30 to 90 minutes away. They [attendees] love the natural beauty of our area and get to enjoy our shows at multiple venues including Daytona State College Palm Coast Amphitheater, our (free) Friday afternoon show in the Hammock at J.T.'s Seafood Shack, our Bloody Mary Brunch Bash at Oceanside Grill on Flagler Beach, and Hammock Beach Resort Show for their members and guests at the resort.     
You've got an amazing line-up this year. How do you go about booking talent for the festival? 
The first year, I have to give all of the credit to Thom Shepherd.  Without him knowing great songwriters and being a great songwriter himself, we could not have launched this event. Since then, with each passing year it has been those songwriters referring other great writers to us, and then those writers referring others. Over the past couple of years, I now have great songwriters reaching out to me to see if they can play at our festival vs. me having to reach out to them which is really cool as it tells you we are now on a national map.    
What can we expect from this year's event?  
A phenomenal line up that will include some names that people remember, artists like Deana Carter and Darryl Worley who are also great songwriters and new to our festival; along with a lot of names they don't readily recognize but once they see and hear them, they will be amazed. 
What's your favorite part of organizing the event?
Three things. I cannot say enough about the volunteers we have.  We could not do this event without their help and support. Also, the relationships with the songwriters themselves. I feel like I went from two great friendships with Thom and Coley to 50+ great friendships with some of the most talented people in the world. Not to mention how nice all of them are as people. Finally and perhaps the most rewarding is the people who have never gone to a songwriters event before coming up to me and saying what a raving fan they are now of this type of event and how they had no idea these were the people that wrote the songs.  
You get to interact with some big names in country music. Do you ever get star-struck?          
That is a hard one to answer. Not sure if I would call it star-struck as much as amazed by how nice and genuine these writers are. There have been a few of the bigger writers I was not certain how they might be, but as soon as you meet them on the phone and then in person, they are as down to earth as anyone can be.