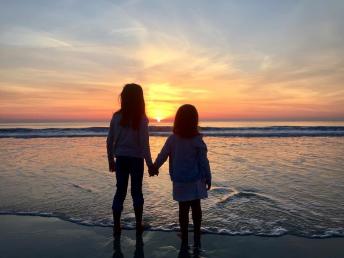 Cruising into Flagler Beach along the main drag on the A1A Scenic and Historic Coastal Byway, you're struck with a feeling of nostalgia, transported back in time to a place far removed from the high rises and traffic. Welcome to Old Florida.
Mom and pop businesses dot the famous coastal highway - from restaurants owned by generations of families with tantalizing menus and plenty of friendly faces, to quirky, eclectic shops filled with art, wares and specialty items.
You'd never know the laid back beach town dealt with two hurricanes in less than 11 months, thanks to the resilient people who call Flagler Beach home. They're more than neighbors, they're like family.
Stopping at the newly reopened Flagler Beach Pier, you spy a restaurant just south of the historic pier with an inviting top deck sporting a spectacular view of the Atlantic Ocean and decide to pop in.   
Grab a Bite: Tortugas' Florida Kitchen and Bar     
The goal at Tortugas' is to c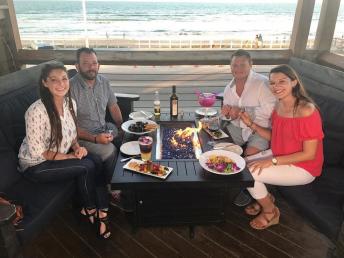 reate a family-like atmosphere for all its guests. You can enjoy "Floribbean cuisine" like red stripe citrus mussels and conch chowder.
"It's the type of cuisine that makes people feel like they're sitting in the [Florida] Keys," he added.
Tortugas' also has live music, happy hour and other promotions, such as an open mic night to ensure the fun is always flowing. 
Greeting you from behind the bar, Scott Fox, co-owner of Tortugas' Florida Kitchen and Bar invites you over with a boisterous welcome. Little do you know that Fox and his best friend and business partner Paul Chestnut were part of the team who helped restore Flagler Beach to it's beautiful state after the storms left their marks on the close knit community.
The pair, supported by their dedicated staff, cooked food on the grill for residents riding out Hurricanes Matthew and Irma on the barrier island, providing hot meals at no cost for those without power and in some cases personally delivering food to folks stranded as they attempted to salvage what was left of their homes in addition to opening up their restaurant as a FEMA command center for Flagler Beach to help residents in need after Irma.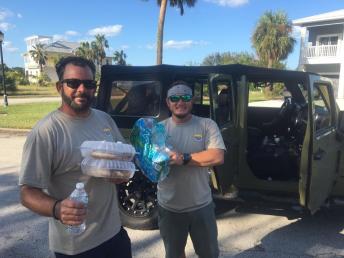 "When we saw Hurricane Irma was projected to hit Flagler Beach, we felt it was an obligation to assist our neighbors and friends, and that became our top priority for weeks after the storm," Scott Fox said. "It was truly amazing to see the support and sacrifices the local business owners and volunteers made." 
According to Fox, the community is the heart and soul of the city—the type of place where everyone knows their neighbors.
"You'd be surprised by how many guests come in on vacation and end up house hunting because they love the community and views," he said. "The city does a really good job of not overdeveloping the coastal community, being small business friendly and protecting the environment. I am blessed to be part of such an amazing community, and it's because they welcomed us with open arms that we feel an obligation to be heavily involved with helping others." 
"We want everyone to feel like they are part of our Tortugas' family, regardless of whether they're local or traveling through," Fox said.  
A Place to Stay: Si Como No Inn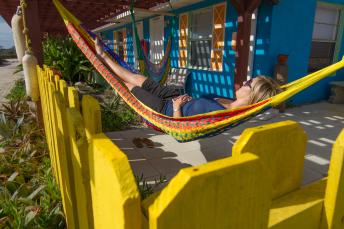 Nestled between the ocean and Intracoastal Waterway on 1.5 acres, Si Como No Inn was relatively untouched by the storm.
Family owned and operated, the inn was built in 1947 and was vacant for years. It was purchased and restored in 2000 and has earned the Trip Advisors Certificate of Excellence for as long as it has been awarded. You can enjoy eight charming cottage-style rooms that provide an escape from the hustle and bustle of the real world.
"Come and enjoy the sunrise and sunset over the ocean, watch dolphins play, lay in one of our many hammocks or try surfing and stand-up paddleboarding with us," Leavines said. "We encourage our guests to come early, leave late and enjoy all the amenities we have to offer."  
If you're looking for something different from the average chain hotel than this fits the bill perfectly. You stop into the Si Como No Inn where manager Monique Futch offers you a place to kick up your heels, slip into your bathing suit and head to the beach for a few hours with your favorite book or rod and reel.
Monique, one of Flagler's famed Scud Buster Storm Chasers, shares with you a little history about the painted palms on display, mementoes from Hurricane Irma, recalling efforts to help community members during the storm. Fascinated by Monique's first-on-the-scene stories of the hurricane, you decide to take home one of the painted palms, knowing your dollars will go back into the community to help families affected by Irma.
More than 15 local artists and crafters are featured in the gallery, so there's something for everyone. They also do custom work, so if you don't see what you need, there's a chance they can make it or find someone who can.
Heading back in from the warm, soft coquina sands along Flagler's beach which is unique to the area, you're ready to explore and find out more about this fascinating locale. Monique is a wealth of information and lets you in on another place for local finds.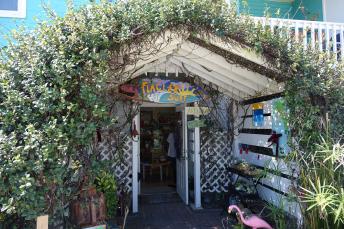 Flagler Surf Art and Stuff is owned by Carla Cline, a local's local. Deep seated roots in the beachside community, she's up before the crack of dawn photographing sunrises to share with the world before opening the doors of her shop at 10 am, island time, of course. She's most well-known for coining the phrase, "Don't Make Me Cross the Bridge" which can be seen on t-shirts worn around town.
With a gentle heart and a smile for everyone she meets, she was especially moved by the impact of the hurricanes on her community. Owner Carla Cline volunteered for a week after Hurricane Irma to help people clean out their homes.
"When you show up at someone's house and help finish a task in two hours in what would have taken two to three days or longer to accomplish, the feeling is so satisfying," Cline said. "This whole experience was completely overwhelming for everyone. I couldn't have imagined having to go through it alone and being much older. Some of these people had so much stuff that was destroyed, and it would have taken forever to sort through it by themselves." Cline feels like the community is just an everyday part of life in Flagler Beach.
Listen Up: Flagler Beach Radio
The station is known for its retro and beachy music and coverage of community events and news, which reflects the vibe of the area.
"The music we play is happy, feel-good songs from the '60s, '70s and beyond, and we have live on-air DJs that talk and play requests seven days a week," Shank said. "We make no money, and all of us are volunteers, who have been in music or entertainment industry in the past and do this for the love of our beachside town."
Ready to explore the town, Monique reminds you to tune into the local radio station 97.3 FM to catch up on all the latest happenings mixed with plenty of feel good tunes.
The station is one of the islanders' favorites, filled with fun personalities like DJ Vern Shank and Flagler Beach Gift Shop owner and radio host Michelle Brown. During the hurricanes it was the go-to source of information for those riding out the storms on the barrier island. 
The station was dealt blows by both Hurricanes Matthew and Irma since the studio's location is on Flagler Beach Pier, with its antenna located 12-stories high on Aliki Condo Building. "We had to take everything out of our studio on the pier in case there was flooding or damage from wind or wave swells," said owner Vern Shank. "Our antenna was destroyed from the high winds, which was a costly fix for a nonprofit radio station, where we don't make any money."
But in spite of the station's challenges, once it was able to get back on air, Shank offered emergency information on both the station's online stream as well as on the 97.3 FM frequency.
Stock up: 7-Eleven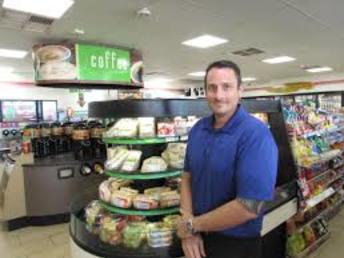 On the way to Flagler Surf Art and Stuff, you stop into the local 7-Eleven on A1A where owner Eric Cooley – once a vice president in the corporate world of Chicago has discovered his own slice of paradise in Flagler Beach. Home to one of the city's hubs, it's more than a place for a great cup of coffee, it's the place to get the latest scoop on happenings in the city.
After the storms Cooley was the first business open in Flagler Beach and once he had the coffee flowing, he set out to help others alongside Scott Fox and Paul Chestnut.
"The number one thing people wanted was coffee, more than ice. You'd never guess it," he said with a smile. "It's amazing how important that first cup of coffee is."
During his four years as a Flagler Beach resident, he's experienced camaraderie with fellow business owners and neighbors unlike any place else, and it's captured his heart.
"One of the reasons I moved here is that Flagler Beach has a chemistry make up that's all its own," said Cooley. "A lot of people talk about Old Florida and what they mean is the cosmetic makeup of the town, Flagler Beach truly IS Old Florida."
"It's neighbors that talk to each other, that check on each other. Scott (Fox), Paul (Chestnut), Carla (Cline), myself, we were out there helping because we are all neighbors. It's neighbors helping neighbors and it doesn't happen like that in other towns. I've lived all over the country and that's what drew me here.  You see it all along the boardwalk – it's a welcoming community. You see it on First Friday, at all the community events and it's really neat, it's really how things should be," he said.