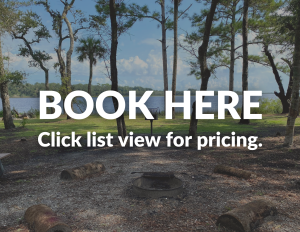 Fairy tales come alive at Princess Place Preserve in Palm Coast. Tucked away inside the sprawling 1500 acre park, sit three little cottages—each one so cozy and comfy that even Snow White herself would approve. Each cottage is available to rent, giving you the chance to experience Florida's natural beauty in a unique way.
The Fairy Tale Setting
Towering trees dripping with moss and lush foliage surround the cottages, creating a secluded sanctuary for each one. The warble of birds and the burble of water reverberate in the otherwise quiet environment. Nearby, a doe and her fawn forage for their next meal. Princess Place Preserve is an ethereal escape from reality—and you can stay in the thick of it all.
The Accommodations: Not Too Big and Not Too Small
With two bedrooms, two ensuite bathrooms, a full kitchen, living and dining space, Goldilocks would deem these air-conditioned cabins "just right." There's room for up to six guests: each of the bedrooms features a queen-size bed; the sleeper sofa in the living room is ideal for two kiddos.
Whip up a home-cooked meal in the well equipped kitchen: dishes, utensils, pots, and pans are all at your fingertips. Enjoy your meal at the cozy dining table (or dine alfresco at the picnic table). We recommend brewing some magic beans (coffee!) and sipping it on the screened porch each morning.
The entire cabin is decorated in a rustic-casual vibe, pairing nicely with the preserve's natural beauty. Satellite TV and Wi-Fi are available—but we're pretty sure you'll want to spend most of your time exploring the outdoors.
The Romantic Background Story
While Snow White and Goldilocks are all fiction—a real princess did in fact call this pristine paradise, "home." Angela Mills Cutting Worden owned the preserve after inheriting it from her first husband, Henry Mason Cutting. She eventually married an exiled Russian prince, Boris Scherbatoff, in the 1920s—thus becoming a princess.
The Crown Jewels: A Historic Lodge, Miles of Trails, and More
One of the best parts of staying on site at Princess Place Preserve is the easy access to all it has to offer.
When he first purchased the land in the late 1880s, Henry Cutting had a lodge constructed on the expansive property. While styled after Adirondack lodges, local materials were incorporated into the build: coquina shells mixed with concrete for walls and cedar and palm trunks were used as columns. Today, the lodge still stands, welcoming visitors from around the world. Tours are available on Fridays, Saturdays, and Sundays at 2 p.m. Be sure to visit the swimming pool, which is considered one of the first in Florida.
Once you've seen the man-made masterpieces, you'll want to spend time exploring the natural beauty of the preserve. Stretch your legs as you meander along miles of trails, winding through saltwater marshes, forests, and swamps. Keep your eyes peeled for a variety of critters: foxes, eagles, and bobcats are just some of the animals that call the preserve home.
The Happy Ending
Ready for your own fairy tale? Book your stay at a Princess Place Preserve cottage in Palm Coast, today. Availability, reservations and more information can be found, here.