Palm Coast and the Flagler Beaches may be known as a cozy beach town along the Atlantic Ocean, but the area is quickly becoming a haven for vacationers who are seeking the perfect spot to be active while enjoying peaceful scenery and a relaxing atmosphere. From its beautiful jogging and biking paths along the Intracoastal Waterway to stunning golf courses with ocean views, Palm Coast and the Flagler Beaches is truly a place for outdoor adventure lovers. Another plus to vacationing in the area? Many of the local restaurants cater to vegan, vegetarian and gluten-free appetites; therefore, you can still enjoy a delicious, healthy meal on your fitness vacation.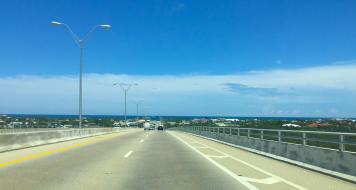 Get your lay of the land and breathe in the salty ocean air with a jog or bike ride over the Flagler Beach Bridge. The bridge is a popular place for area runners and cyclists. It provides a great view of the Intracoastal Waterway and will lead you straight to the ocean, where you'll see the calm waves and golden-brown sand Flagler Beach is known for.
Go for a walk or run at Waterfront Park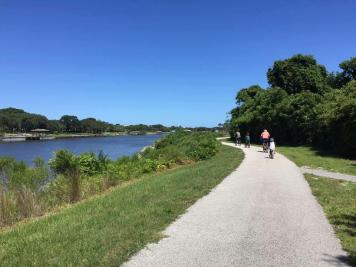 If you're looking for a peaceful place to enjoy a day outside, Waterfront Park sits on 20 beautiful acres and has plenty of shady oak trees and walkways. TripAdvisor users ranked getting active at Waterfront Park as the second-favorite thing to do in Palm Coast. Paths weave throughout the park for runners, walkers and bicyclists with benches and water fountains available along the way. The park sits alongside the Intracoastal Waterway, making it an excellent place to fish from the pier and spot wildlife, from herons and egrets to manatee and dolphins. Waterfront Park is the perfect place to take a relaxing bike ride; it even has a bicycle maintenance station, complete with a post to hang your bike for quick tire changes and gear adjustments. Not sure how to make a bike repair? The bicycle station has a QR code you can scan with your phone to find helpful maintenance videos and instructions. Request your FREE Nature & Trails Guide.
Bring your Cycling to the next level at the Mala Compra Greenway Trail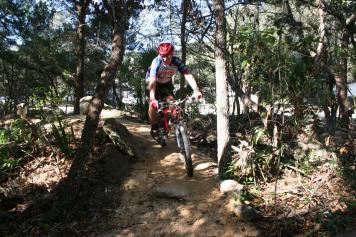 After you warm up at Waterfront Park, the Mala Compra Greenway Trail is the ideal place for you to enjoy a more rigorous bike ride. This 5.5-mile mountain bike trail is located off of Scenic A1A. The trail is a challenging terrain, but its many climbs, descents and a few tight turns make it an exciting trip if you're a beginner looking to grow your skills. If you're a more experienced cyclist, this a great opportunity to perfect your technical dexterity. Both a beginner trail and an intermediate trail are marked and open for use. The Mala Compra Greenway Trail is mostly shady, with a few small bridges over water, giving you a cool ride on a hot day.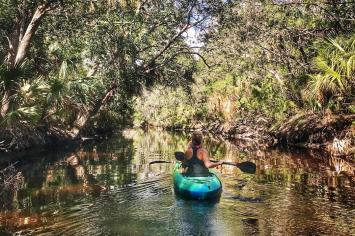 To get an up close and personal look at some of Florida's most popular marine creatures, such as manatees, dolphins and otters, spend a few hours on the local creeks and waterways by renting a kayak from Tropical Kayaks. Its colorful kayaks and standup paddleboards will have you out on the water— exploring in no time. The staff will outfit you with everything you need to explore like a local, including gear, maps and personal recommendations for the best sightseeing. Not ready to venture out on your own? Tropical Kayaks offers a variety of tours, including two-hour tours daily, and Breathe and Paddle trips that combine kayaking with light yoga. Request your FREE Paddling Guide.
Unwind with beach yoga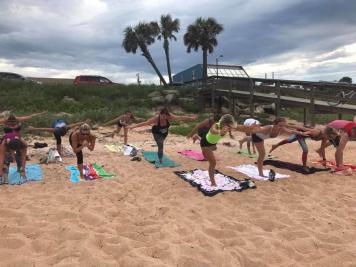 Get in touch with your inner yogi with a session at Nadi Yoga and Wellness. This modern studio is run by a U.S. Navy veteran, who teaches yoga as a way to relax the body and mind. Classes are available Saturday through Thursday, with some classes offered on the beach for an ultimate calming experience. A variety of packages are available, from monthly memberships to a special vacation package— complete with a yoga mat and other equipment. Let your worries float away with a relaxing session at Nadi Yoga and Wellness while vacationing in the Flagler Beaches.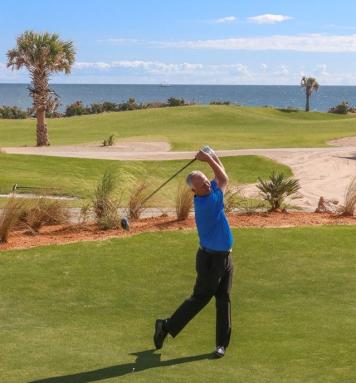 If you're an avid tennis player or golfer, Palm Coast and Flagler Beaches have plenty of opportunities for you to score an advantage or hit a hole-in-one. Many of the local parks offer tennis courts, including Belle Terre Park, Wadsworth Park and the James F. Holland Memorial Park, just to name a few. You'll also want to check out Palm Coast Tennis Center. It has 10 clay courts that light up nightly and even offers clinics led by tennis professionals.
The area is also home to some incredible golf courses, including several designed by one of the sport's top players—Jack Nicklaus. Nicklaus designed both the challenging and spacious course at Grand Haven Golf Club and the award-winning Ocean Course at Hammock Beach. You'll enjoy the scenic views at Ocean Course, including the six holes facing the Atlantic Ocean. It is a must-see course if you're a golfer visiting Palm Coast.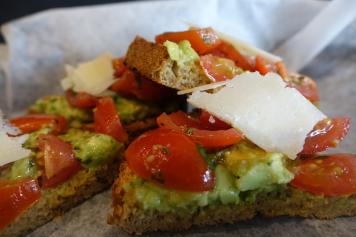 Even if you're the most health-conscious vacationer, you can still find fantastic dining options when visiting Palm Coast and the Flagler Beaches. Vessel Sandwich Company is located right off of Scenic A1A and serves gourmet, handcrafted sandwiches and wraps, with gluten-free options available. The craft beer selection at Vessel pairs well with any of the lunch items, which are made from local ingredients with Florida flair. If you're a vegan or vegetarian, you'll find a dream menu at the quaint Back to Eden Café, where you can dine beachside. Vegan, vegetarian and gluten-free options are also available at Wild Rabbit Café and Bistro. The location boasts a nutritious breakfast and lunch menu, along with signature juices, such as the Wild Rabbit: A mango, pineapple, banana, carrot, ginger and apple juice concoction that is the perfect way to cleanse the palate after a day of exploring.