Named "one of the best places to take your pets" by USA Today, Palm Coast and the Flagler Beaches invites you to experience the pristine beaches, delicious seafood and outdoor activities—all alongside your dog, making it the perfect "dog-cation" destination. Located between St. Augustine and Daytona Beach, Palm Coast and the Flagler Beaches prides itself on being dog-friendly. After all, Fido deserves a vacation too!
Here's a look at five reasons why dogs love visiting Palm Coast and the Flagler Beaches.
Pet-Friendly Beaches
Flagler Beach has pet-friendly beaches with plenty of room for playing in the sand and catching waves. Whether you're swimming or strolling along the ocean—feeling the sand in your toes—you'll feel right at home with your dog. Dog-friendly zones are located north of North 10th Street and south of South 10th Street, with owners being advised to keep their dogs on a leash no more than 5 feet long.
Dog-friendly Varn Park, located north of Flagler Beach, has 8 acres for you and your pup to explore along the beachfront. The park is a popular spot for shore fishing, with ample parking and outdoor showers.
Doggie Dining Spots
At Java Joint Beachside Grill, located across the street from the Atlantic Ocean, you can take advantage of the pet-friendly deck as you enjoy an al fresco meal for breakfast or lunch.
A local favorite since 1947, High Tides at Snack Jack is a fun waterfront restaurant your dog will love too.  Choose from fish tacos, steamed shrimp, fresh fish and more while admiring views of the Atlantic Ocean. 
Enjoy dinner with a view at Oceanside Beach Bar & Grill, where diners savor the traditional seafood dishes and oven-baked pasta, which is made with family recipes from this family-owned restaurant. Located south of the Flagler Pier, this dog-friendly restaurant offers views overlooking the beach in a casual setting.
For dessert, take your pup for a walk and a sweet treat at Sally's Ice Cream featuring 40 different flavors and 23 toppings. The ice cream shop is located north of the Flagler Beach Pier and serves other treats such as milkshakes, banana splits and frozen Key lime pie on a stick.
Accommodations to Bark About
Dogs will enjoy their vacation too at Si Como No Inn, home to 1.5 acres of land that's great if you want a scenic stroll with your pup. This oceanfront property is home to eight cottage-style rooms located between the ocean and the Intracoastal Waterway.
Interested in camping along the beach? Beverly Beach Camptown Resort is home to RV campsites and cabins with 1,500 linear feet of Atlantic Ocean beachfront property, making it one of the few RV resorts in the country to be directly on the beach. As a year-round camping destination, your dog will feel right at home overlooking the ocean.
If you need more space with amenities, many vacation rentals in Flagler Beach are pet-friendly and are well-suited for extended stays, families and groups. Some of the vacation rentals offer fully-equipped kitchens and a variety of budgets.
Explore the Trails
Let your pooch stretch their legs and enjoy the outdoors when you explore the many trails in Palm Coast and the Flagler Beaches. Take a hike among the 217 acres of Betty Steflik Memorial Preserve and discover coastal scrub and marshes along the boardwalks. Be on the lookout for gopher tortoises and migratory birds along the way. Go fishing at the pier overlooking the Intracoastal Waterway or launch a boat at Moody Boat Launch for a day on the water.
Explore the history and stories of days past at Bulow Plantation Ruins Historic State Park. The 150-acre park is on the National Register of Historic Places and is home to the Bulow Family Plantation, dating back to the 1820s. See where sugar cane, cotton and rice once grew and visit the sugar mill ruins. The park also has small boat access for kayaking and canoeing, with Bulow Creek designated as one of the state's official canoe trails.
Located in the northern end of Flagler County, Princess Place Preserve is home to 1,500 acres and is an outdoor lover's dream with hiking trails, fishing along the Matanzas River and Pellicer Creek and the opportunity to camp outside under the stars with your dog. The preserve is also popular with horse enthusiasts as it's home to an equestrian campsite.
Unleash the Fun
For more outdoor adventure, visit the popular Wadsworth Park, home to a 60,000 square foot fenced dog park. Dogs can enjoy this area away from their leash and meet other dogs to play with. With park benches, separate areas for large and small dogs and shaded areas for owners, everyone can enjoy their time outside. In addition to the dog park, the 45-acre park is also home to a canoe launch, a skateboard park, a picnic pavilion, a playground and more.
North of Flagler Beach in Palm Coast, James F. Holland Memorial Park is also home to a dog park. The 1.5-acre dog park offers two separate areas for large and small dogs along with a wash area for dogs to cool off and get clean after a fun day of play. For owners, the park is home to a walking trail and a unique playground themed after the Bulow Plantation Sugar Mill—combining history and fun for the kids.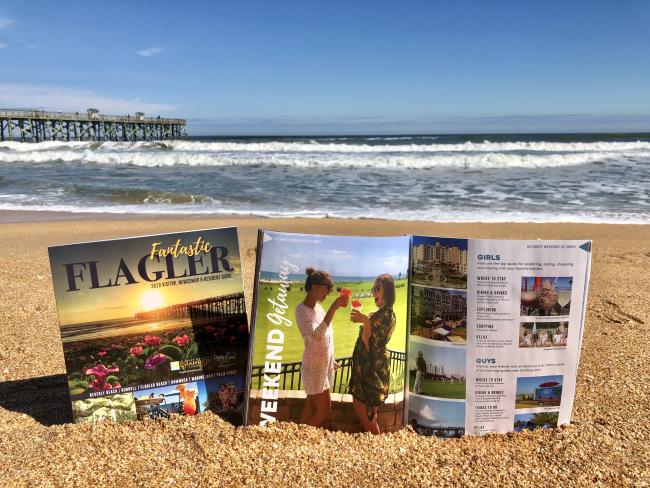 Start Planning Your "Dog-cation" to Palm Coast and the Flagler Beaches
Ready to start planning a vacation with your furry best friend? Palm Coast and the Flagler Beaches welcome you to experience the area and enjoy the dog-friendly zones on the beaches, in the restaurants and at the parks.
Receive your free visitors guide or sign up for the e-newsletter for the latest news, trip ideas and events in Palm Coast and the Flagler Beaches.