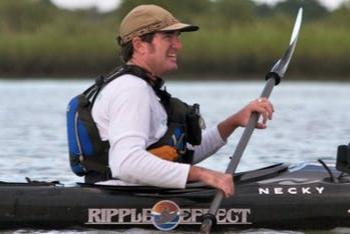 Chris Kelley looked long and hard across coastal Florida to find the perfect spot for his paddling company before he settled on Flagler County.
There was simply no comparison to the county's 45,000 acres of unfragmented, continuous coastal wetlands. Visitors on Kelley's Ripple Effect Ecotours, the region's premier guided kayak tours, set out from Marineland Marina and cross the Matanzas River until they reach a lagoon that's seven miles wide and a foot deep.
That lagoon habitat hasn't changed much in the last 10,000 years, back when Florida emerged from the last Ice Age. The area is one of the "last fully functioning ecosystems that you'll find anywhere in Florida,"  Kelley said, and "one of the most remote, quietest, pristine hyper fertile estuaries that you'll find in the country."  Its extensive number of fish habitats make it a nursery for the ocean.
Ripple Effect's 2-2.5 hour tours from Marineland ($55) set out in the morning and for a sunset paddle each day along a dozen different routes ranging from three to six miles, so no two excursions are ever the same. The company offers tandem kayaks and rudders on its vessels, ensuring the adventure is manageable for its customers.
Within 10 minutes of Marineland, paddlers have left civilization and are completely surrounded by nature.  On any given tour, visitors might see one of 250 species of birds, bald eagles, dolphins, manatees and a variety of other marine wildlife depending on the time of the year.
For Kelley, the thrill of discovery in this extraordinary setting hasn't waned since he first started his tours back in 1999. Every customer who returns from the experience amazed allows him to see the natural beauty of Flagler County through fresh eyes.
"Flagler County boasts one of the most pristine coastal habitats, and some of the broadest natural resource conservation that you'll find anywhere in coastal Florida," Kelley said.
Can't get enough of kayaking? After your Ripple Effect tour, check out these other spots to extend your paddling adventures in Palm Coast and the Flagler Beaches:
After immersing yourself in the incredible history of Bulow Plantation Ruins Historic State Park on a self-guided tour, head down to the kayak launch at the back of the property and set into beautiful Bulow Creek for a peaceful, off-the-beaten path paddle. The park rents kayaks starting at just $10 an hour, or $40 for the day.
Those bringing their own kayak to Flagler County will love the Haw Creek Nature Preserve, a freshwater paddleway on the western side of the county through marshes, swamps, and forests. The preserve is only accessible by water; set in from a nearby public marina at the end of County Road 2007.
Other great spots to set in include Bing's Landing and Princess Place Preserve, which each feature a paddler's paradise of abundant wildlife to discover. Whether you're a novice or an experienced kayaker, Palm Coast and the Flagler Beaches have the paddling adventure you're looking for.
Discover more outdoor adventures in Palm Coast and the Flagler Beaches here.