Meet Tony and Florinda Corte-Real, owners of Twisters Ice Cream Café in Palm Coast. This husband-and-wife duo opened their shop in 2016 and have been churning out delectable frozen treats ever since. We chatted with them about their unique flavors, Tony's background in the industry, and what it's like to work together as a married couple.
How long have you been partners/married?        
We've been married since 2015 but have known each other for over 40 years. We both graduated from the same high school. We were best friends in high school and then went our separate ways: getting married, having kids, and living in the same community.  Then our life's path and destiny brought us back together in 2013.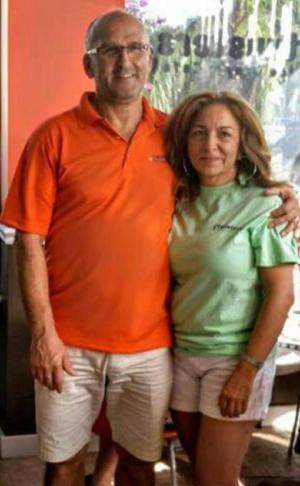 Tell me why you decided to open Twisters?
We decided to open Twisters because we both had recently gone through divorces, and we were looking to get away from the cold winters and snow in Connecticut and start a new chapter in our lives. Tony had originally owned a very successful ice cream shop in Danbury for 15 years before taking a 3-year hiatus. Then, he returned to the ice cream business and opened Twisters in 2016.
Why did you choose to open your business in Flagler County?
We chose Flagler County because we have family who lives here and wanted to be close to the beach. We had visited on several occasions and fell in love with the area and its proximity to the beach.
How did you come up with the name?
Tony's previous Ice Cream Shop in Connecticut was named DUBL Twister, so we decided to keep part of the original name.
Can you share about your background in the ice cream industry? I read you studied at the Penn State Creamery? That sounds incredibly cool—pun intended.
Tony first started in the ice cream business through a former family member who later sold the business to him.  It was at that point that Tony decided to sharpen his skills and knowledge and attended the Penn State Ice Cream Short Course at the creamery in Penn State.
What sort of things do you learn at "ice cream college?"
Students learn about the specialized areas of ice cream technology including flavoring, refrigeration, freezing and hardening techniques, and the manufacture of frozen yogurt and novelty frozen desserts.
What do you love about working together and owning a family business?
The best part of working together is that we get to see each other and support each other every single day. Even though it was actually Tony's dream to have an ice cream shop in Florida we love working towards the same goal and are both committed to the success of our business. We consider ourselves a "team" and couldn't do it without each other's support.
You have some unique flavors, like buttered popcorn. What is the creative process behind coming up with new flavors?
The "Butter Popcorn" aka Milho Verde is actually a Brazilian ice cream flavor.  When Tony owned his previous shop in Connecticut, he tried to think outside of the box and come up with something different.  The community in Danbury was very diverse and made up of many different ethnicities including Hispanics, Portuguese, Italians, and Brazilians, as well as many others.  He would often get requests from his customers for flavors that they had back home.  He started experimenting with flavors from South America and soon after was able to offer over 10 different varieties including Mango, Guava, Passion Fruit, Coconut Pineapple, and the Butter Popcorn, which he was known for.
Your ice cream is made in-house—how long does it take from start to finish to whip up the perfect batch? Who is usually making the ice cream?
Tony makes all the ice cream and uses his little "black book" of recipes that he's had for the past 25 years. Flo only helps in the prepping of ingredients needed for the specialty flavors and with the packaging of pints and quarts. A batch of ice cream actually doesn't take that long to make, it's the specialty flavors take longer time from start to finish.
You sell ice cream—but also happiness. What's it like to see the smiling, happy faces of your customers? Have you made any customer friendships because of running the business?
We have been blessed by the Palm Coast and greater Flagler community from day one. Their devout loyalty and support throughout the past 7 years are one, if not, the primary reason we are still in business even thru the pandemic.  We have formed lasting friendships with so many beautiful families.  Supporting each other through the happy and sometimes more difficult and sad times in life. People often look to ice cream as a form of comfort food during those more difficult times and we try to help by bringing a smile, if only for a brief time, to their faces. We have formed everlasting friendships & bonds with customers from all over the USA. Many who for the past 7 years visit us yearly when visiting Flagler County. We love that about our business and we love to see the smiles on the children's faces each & every day.  Tony always says, "It's an Ice Cream Shop, you're supposed to be happy."
Any meaningful or funny stories related to Twisters that you'd like to share?
Our niece found a very well-known quote online that we have posted on our wall that says "Life is like an ice cream; enjoy it before it melts." And that basically sums up our philosophy and outlook on life. We love to be able to share something memorable & delicious and see people's smiles and reactions. Life is indeed too short, so if we can bring that happiness and smile into someone's day, well then, we've accomplished our goal.