Meet Captain Chris Herrera, owner of Palm Coast Fishing. For over 19 years, he's guided locals and visitors through Flagler County's pristine waterways in search of their first (or next) great catch. We chatted with Herrera to learn more about what makes Palm Coast and the Flagler Beaches a prime spot to fish, why you should hire a charter on your visit, and more.
Q:  First, tell us a little about yourself and how long you've lived in the area.
A: I've been guiding in Palm Coast for 19 years, starting back in 2003. While I wasn't born in the area, I started visiting at four years old and moved here when I was 12.
Q: In general, why should someone hire a charter instead of going it alone?
A: There are many different reasons to hire a charter guide. The most common reason is you're coming on vacation and don't have the local knowledge or didn't lug your boat with you. Because you're only here for a short trip, you want to maximize your time and be successful. The best thing to do is hire an expert who understands the waterways and where the fish lay.
People also hire a guide to learn. For example, if they move here from out of state, they'll want to learn the waterways, how to be safe, perhaps even how to catch a fish. Basically, they hire us to shorten that learning curve because otherwise it could take years to figure out. With the right guide, it'll take you a short period of time.
Q: And why hire Palm Coast Fishing?
A: Simple answer—my expertise. I've been doing this a long time. I've really dedicated my life to learning just about every square inch of this area. It's really hard to replace 19 years of experience.
Q: Tell us more about Palm Coast Fishing. Are you family-friendly?
A: We have about 12 guides who work at Palm Coast Fishing, all of them have dedicated their lives to being professionals on the water. When clients first call, I like to discuss their options at length. We cater to families, so if it's a family trip, I'll determine what their expectations are. I have a saying: not every guide is for every client and not every client is for every guide. After speaking with them, I like to match them up with the right guide, with the right personality, the right boat, and the right temperament to take them out and show them a good time on the water.
Q: What species of fish are charter guests most likely to catch with you?
A: Trips start based off the tides. The tide is the number one thing guides look for to see if we're going to be successful for the day. That'll dictate what species we go after. We primarily go after redfish—it's my favorite because we have them year-round. But throughout the year we have other species that migrate to the area, like tarpon and cobia. We also have some good flounder, black drum, and trout runs—granted those are year-round species, but certain times of the year are better than others.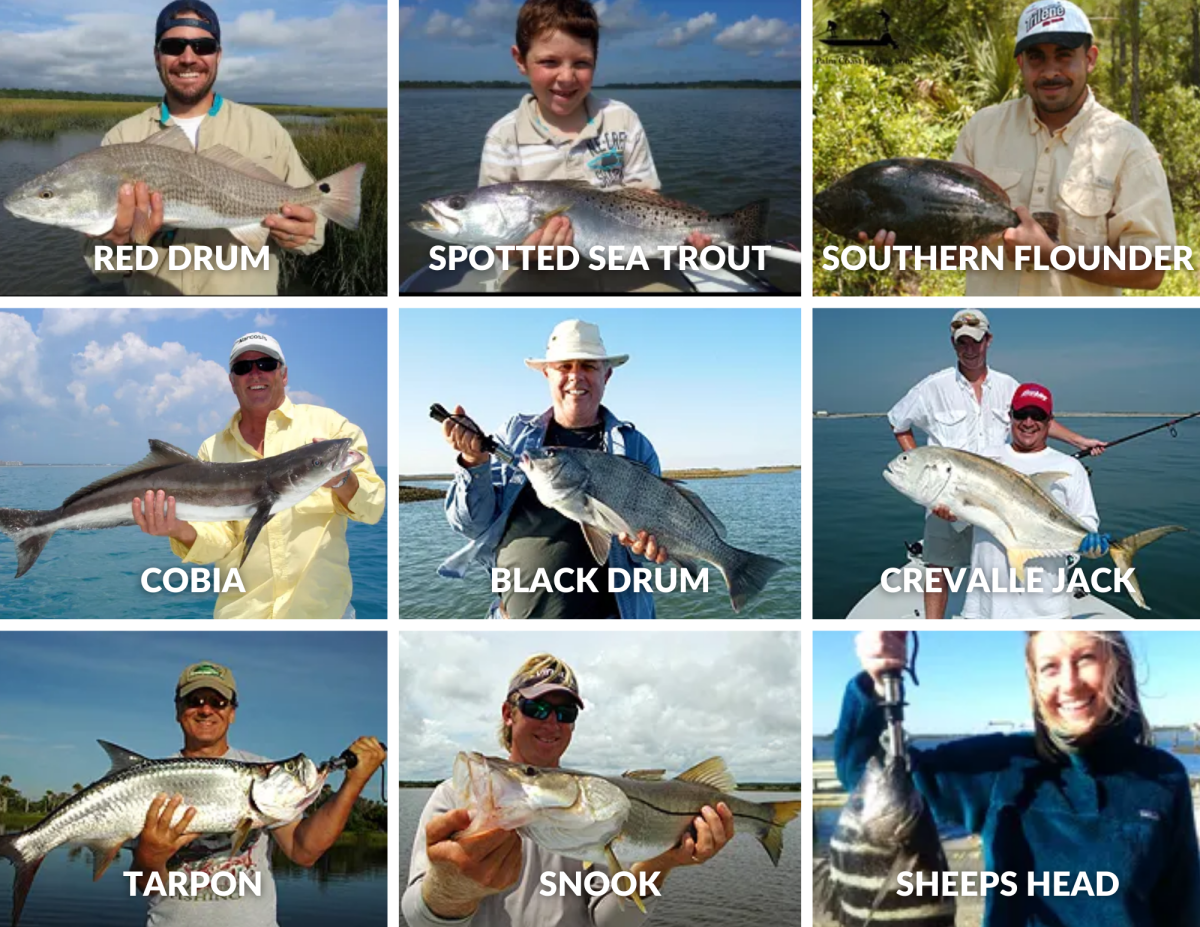 Q: You've said some times of the year are better than others. When is the best time to fish and why?
A: It varies year-round because certain species come in at different times of year. But, my favorite is wintertime. The water gets very clear when the temperatures drop, and we're able to do a lot of sight-fishing for redfish in the shallows. The redfish school up in groups of 20, 30, 50, sometimes even 100 fish, and being able to pull around in about a foot of water and see them swimming around and eating is by far the best type of fishing there is.
Q: What's your personal biggest/best catch in Palm Coast and the Flagler Beaches?
A: Most of my time spent on the water is with clients, so it's not my personal catch—it's their personal catch. That's my greatest achievement. One of the best catches for a client was a 24-pound redfish that was caught in the shallows, measuring about 41 inches. Others include numerous 150-pound tarpon off the beaches and a 60-to-70-pound cobia.
Q: What's your favorite part about fishing in Flagler County?
A: The beauty of our area. The areas that I fish still look the way they did 100 years ago. They're not built up, there's no industrial areas in the backdrop, no housing developments. It's so well kept, well preserved—that's what makes it my favorite.
Q: If you could give one insider tip regarding fishing in Palm Coast and the Flagler Beaches, what would it be?
A: If you're on a rented pontoon boat, the number one thing when it comes to fishing is the tide. The tides are going to dictate where the fish are going to be and if they're going to be feeding or not. The best tides to fish, in my opinion, are going to be the last of the outgoing and the first of the incoming, when you have that little bit of slack period. If you find the right location during that tide, then you should be successful.