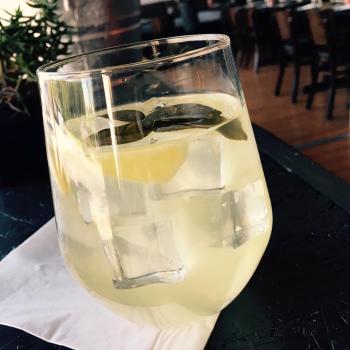 If you are in the mood to spend an evening with friends sharing delicious dishes and sipping on delicate cocktails, Mamaling Asian Street Food is the place for you.
Located in the Winn Dixie and Bealls shopping plaza, Mamaling's is tucked away in the far corner of the plaza but provides plenty of ample parking. The restaurant is open for dinner Tuesday through Sunday, opening at 4:30 p.m. promptly.
I recently visited Mamaling's with two of my good friends on a Wednesday evening. The decor and ambiance of the dining room is homey, almost as if you've walked into a family-friend's home filled with treasures and art of Southeast Asia. There are two rooms in which you can sit-- the front room where the bar is located and a room off to the side, which provides a more private experience.
We were immediately seated by an attentive hostess and were brought a carafe of water to refill our own glasses as needed. The host was personable and explained how Mamaling's menu is set up for people to share multiple courses rather than ordering one plate per person. He went on to explain that the dishes come out as soon as they are prepared, so there is no order in the way the food arrives at your table. This just means that you can continue ordering different plates throughout the meal and receive them in a timely manner.
To begin, my dining partners and I decided to order the house-made White Tiger Sangria. This sake-based sangria boasts a hint of yuzu citrus and a nice touch of star anise. It was refreshing and light, perfect for sipping with a variety of different dishes.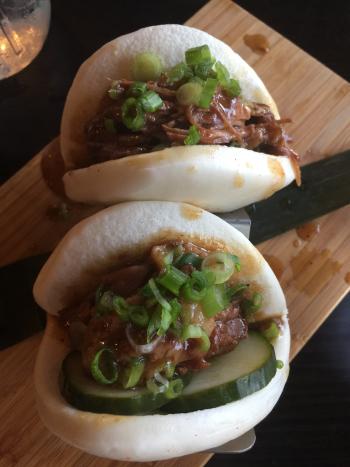 We decided to order a few dishes up front rather than choosing from the menu after every course. The small plates run from $4.95 to $8.95 and vary in the amount of food. Our server made sure to let us know how many portions would be on each plate beforehand.
The first plate that arrived was the BBQ Beef Lettuce Wrap: grilled filet mignon topped with a tangy bbq sauce, kim chi, fuji apple wrapped in a tender butter lettuce leaf. The beef was cooked to perfection and the apple added a great crunch to the overall dish.
Next up was a serving of Adobo Pork Steamed Buns served with pickled cucumber and a black pepper caramel. The pork was tender and the caramel sauce gave a sweet and bitter undertone to the dish, really bringing it together. In fact, we ordered a second helping of the dish just to eat more of it.
A plate of Chicken Satay came next, and with it a tangy peanut sauce. I would consider it a great dish to try out if you are new to Southeast Asian cuisine.
At the end of the meal we were presented with a postcard, a nice marketing touch I must add.
Overall I would recommend a visit to Mamaling Asian Street Kitchen to anyone who is looking to try a bit of Southeast Asian cuisine in a fun and comfortable environment. Just be sure to order an extra helping of the steamed buns, you'll thank me later!