With warm sunshine, pristine beaches, and plenty of good eats, there's no better place to spend your Thanksgiving than Palm Coast and the Flagler Beaches. Ready to tuck into some turkey? Here's a round-up of local restaurants that are open and serving up everything from regular menu items to your holiday favorites. Or check out our list of local fish and farmers markets and whip up your own meal with a Florida twist.
Dine Out or Cater In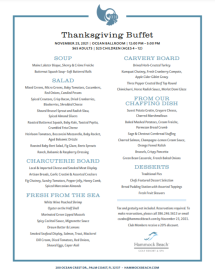 Ocean Ballroom Thanksgiving Buffet
It's no surprise that the luxurious Hammock Beach Resort knows how to throw a fabulous holiday celebration. This year's Thanksgiving buffet is plentiful—begin your meal with lobster bisque, soft buttered rolls, and gourmet salads. Then, feast on mains like brined herb-crusted turkey, three pepper crusted beef top round, white wine poached shrimp, and more.  Accompaniments like sweet potato gratin, sage and chestnut cornbread stuffing, and Brussel sprouts with crispy pancetta are also on the menu. For dessert, a cornucopia of sweets: traditional pies, bread pudding, and fresh fruit skewers. $65 for adults, $25 for children ages 4-12. Reservations are required. Call 386.246.5613 or email cszabo@hammockbeach.com.
For those who prefer to skip the cooking but still dine at home, the resort also offers a Thanksgiving To-Go option. Enjoy a mixed green salad, herb-crusted turkey and savory sides, and assorted miniature desserts. $80 serves two, $40 for each additional serving. Orders must be placed by Tuesday, November 23rd. Call 386.246.5613 or email cszabo@hammockbeach.com.
Atlantic Grille
With its sublime ocean and golf course views, the Atlantic Grille is a beautiful location for a holiday meal. The restaurant will offer its traditional menu as well as a Thanksgiving Day special. Reservations are required. Call 386.246.5613 or email cszabo@hammockbeach.com.

Funky Pelican salutes its fellow feathered friend, the turkey, each year with special menu offerings. Dine on traditional favorites like savory turkey, mashed potatoes, cranberry sauce and pumpkin pie. Prefer burgers over birds? Limited items from the regular menu are also available. Reservations are requested, with limited walk-in availability.

Tuck in that napkin and get that fork at the ready—you'll want to gobble up everything on Beach Front Grille's holiday buffet. Previous Thanksgiving menus have included everything from fresh baked ham to shrimp cocktail. Reservations accepted beginning November 1. Call (386) 693-4839.
---
Cook the Local Catch
If you're staying in a rental with a fully equipped kitchen, consider cooking your own Thanksgiving feast—Florida style. Visit one of our local seafood or farmers markets before the big day to purchase fresh fish and veggies.

Load up on fresh-caught shrimp, oysters, grouper, lobsters, clams, mussels and more. If you can't decide, Anthony and his friendly staff are eager to assist. There's also homemade soups and chowders, perfect as appetizers or sides for your holiday meal.

You won't find any imported fish at A1A Fisheries. For five years, this family-owned business has supplied locals and visitors with some of the freshest seafood around—hauling it in right off their boat. Check-out A1A's Facebook page for recipe inspiration.

You'll discover a little bit of everything at the European Village Farmers' Market. Held every Sunday, the market hosts a hodge-podge of vendors and their wares. Pick up baked goodies, produce, eggs, sauces, and dips for your Thanksgiving feast.

Truly a chef's delight. This local market has farm-fresh produce, Florida citrus, jams and jellies, raw honey, fresh eggs, and more. Open 7 days a week, from dawn until dusk.