Meet Rebecca Johnson, owner of Becca's Sweet Tooth in Bunnell. Johnson jumpstarted her culinary career baking for friends and family. Now, the former foster mom whips up decadent delights for customers and teaches others to frost cookies like a pro.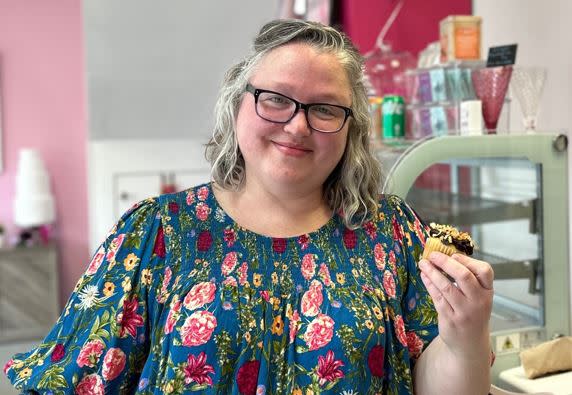 What inspired you to open a bakery?
I had the idea over a decade ago that I would love to open a bakery, but it just felt like an insurmountable challenge, financially. So, I just continued to bake for friends and family, mostly around the holidays. It wasn't until I lost my job in 2020 due to budget cuts that I found myself in the right place, at the right time, with the right people to help me make the dream a reality.
What's your favorite part about owning a business in Flagler County?
I moved here 14 years ago, after having been here for work a couple years prior and really loving it. I was never really one to stay in one place for long, but something about Flagler has kept me here. I love encountering the variety of people that have also moved here, from all over the place. Everyone that comes in has their own story to tell and you can find connection in so many unexpected ways.
How did you learn to bake? Did you start at an early age or more recently as an adult?
I didn't do a lot of baking when I was younger. No more than the average person really. About 20 years ago, my youngest sister randomly asked me to make her wedding cake. I had no idea why she asked me. I had exactly zero experience. She wanted a topsy-turvey 3-tier cake. I had absolutely no idea how to do something like that. But at the time I worked at Michaels, and figured, alright, I'll just sign up for some cake decorating classes. Not that cakes of this level were covered in the classes, but I at least got the basics, and my instructor was really helpful and gave me lots of extra tips to help me get there. I look at pictures of that cake now and I am still impressed I managed that as my first cake. LOL. After that, I continued baking for friends and family and realized just how much I enjoyed it. I eventually began teaching cake decorating classes myself after moving to Florida. And it's just grown from there.
How do you hone your skills?
Until a few years ago, I mostly used family recipes or started with mixes that I could alter to make them special because I didn't have an understanding of the chemistry behind baking, so I struggled just coming up with something totally new. But I knew that's what I wanted to be able to do. So, I got a book to teach myself. Man, talk about dry reading. LOL. I wouldn't call myself an expert by any means, but it did make it possible for me to come up with my own recipes to start making everything from scratch. Through lots of trial and error, tweaking and experimenting, I've been able to develop a collection of recipes of my very own. It makes me so happy knowing I am providing my clients with unique, quality products.
What's your favorite part of baking?
My favorite part of baking is getting to contribute, in even this small way to people's special occasions. I've been fortunate enough to have wedding clients that later needed a baby shower cake, 1st birthday cakes, 40th birthday cakes, and 10th anniversary cakes. To get to be a part of such special milestones in their lives… that's where I find my joy and inspiration. 
What's your favorite thing to bake/favorite menu item?
I don't know if I have a favorite specific item, but I love it when a client makes a custom design request that takes me outside my comfort zone and challenges me to learn new skills and techniques. I've really been able to expand and grow my skill set over the past few years.
You offer classes, like cookie decorating. Can you tell us more about what attendees can expect from a class?
I have a variety of types of classes. Most of them are specific project-focused, like decorating a specific set of cookies. I'll typically prep everything in advance, go over some tips and tricks, do a little practice, and then get straight to decorating. They are informational, but they are more about just having fun with it. I've recently added some that are more technique-based, for those that really want to learn fundamentals to be able to do for themselves. Those are a lot more hands-on for the students to do their own prep-work, before we get to the designing aspect. I hope to be able to offer more of these, as well as a better selection of options for younger kids, in the coming year.
What's your favorite part about teaching others to bake and decorate?
I know the things I've struggled with, and how awesome it is when you finally figure it out after so much frustration and so many failed attempts. Sometimes it's such an "ah-ha!" type moment, and I love to be able to share that knowledge in a hands-on environment with people who have maybe encountered the same frustrations or haven't had the confidence to even try. 
Some wonder about the possible loss of future business when people learn to do it for themselves, but I view this with 2 very specific positives.
First, those who sign up just to get out and have some fun. They aren't looking to learn to do this for themselves at home, but they DO gain a better understanding of what goes into making custom creations… the years of practice, the tools and equipment, and when it comes time to order something custom for their own special events, they know who they can go to for quality and aren't expecting grocery store prices.
Second, those who really do want to learn the skills, so they CAN do for themselves. I can help them learn to make their own budget-friendly birthday cakes for their kids' birthdays, something special for their anniversary, or gain the confidence to impress their friends and family for a holiday. I feel like that's the way I still get to contribute to the joy of their special occasions, even if a custom creation from a bakery is out of reach for them.
To me, it's the best of both worlds.
Your website mentions you were a foster mom. How long did you foster? Did baking play a role?
I really loved fostering. I was actively fostering for less than a year. That wasn't the plan, of course, but circumstances changed. Even in that short time, I had a lot of kids in my home. Some just overnight, or for a week, and others for a few months. The longer-term kids were sibling groups, because that was the specialty of the agency I was working with, focusing on keeping them together whenever possible. There were times when I had up to 4 at once. This all coincided with the time frame when I was setting up the bakery and doing the build-out. I got to share the process with several of the kids, some being teenagers, that just wanted to be included and helped design my tabletops. Other kids that were excited to help me unpack supplies and put sodas in the cooler, while some were happy to watch cartoons while I organized the kitchen.
Once I was open, the hard truth was I was working so many hours, I just couldn't give the kids the time and attention they deserved and needed, so I decided I needed to take a break. In the meantime, I find other ways to help by partnering with a local charity that focuses on helping out foster kids in Flagler County (Seawolf Privateers).